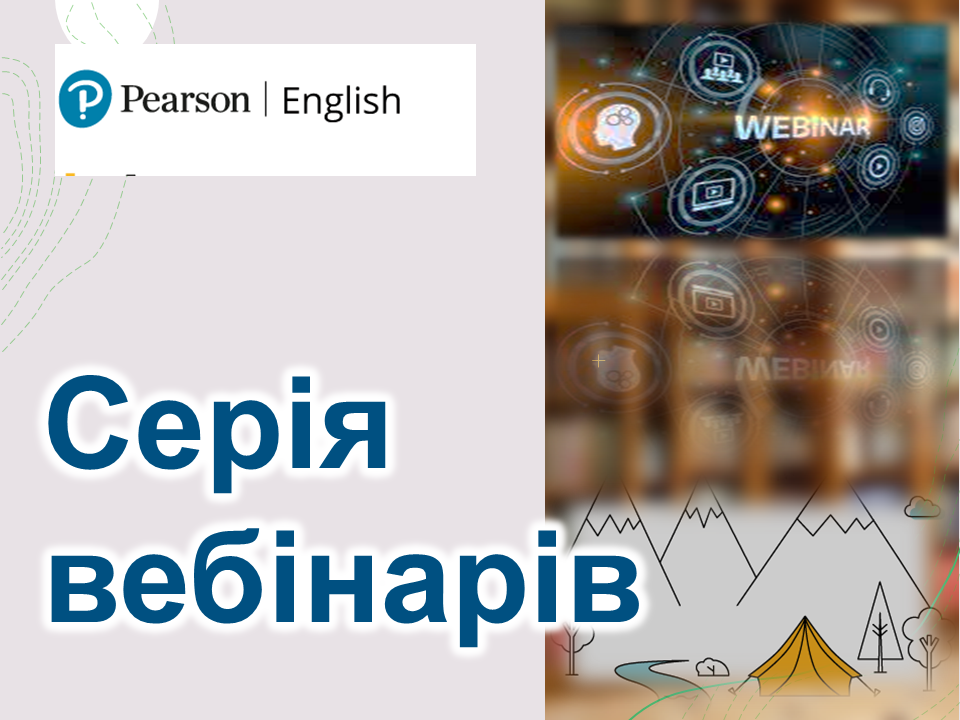 Refresh and recharge at "Assessment Summer Camp for Teachers"
21.07.2021
PEARSON ENGLISH webinar series
an energizing series of English assessment-focused webinars,
designed to give new perspectives,
actionable ideas and concrete skills
and provide teachers with the resources they need
Let's take a look at the schedule:
How teacher-powered AI is pushing the boundaries of progress – in teaching, testing and beyond (Fireside chat)
Pearson's AI technologies can be used for formative or summative purposes in educational assessment. Public perception in this area has often focused on the lack of human interaction and judgement when automated marking technologies are used.
This talk will demonstrate that in many ways, the opposite is true. The use of artificial technologies allows the judgement of hundreds of human assessors to work in unison, increasing validity and addressing bias and low-reliability issues. These technologies also significantly reduce teacher workload in terms of marking student work, yet still benefiting from diagnostic feedback on their students.
When? Tuesday 20th July, 5pm UK time – Register now!
Powering up soft skills: preparing your students for an international workplace
Effective use of all workplace competencies begins with good communication skills. As the global language of business and research, it is widely accepted that the ability to communicate effectively in English is now a basic employability skill. With COVID-19 continuing to reshape the future of how and where we work, the latest research suggests that soft skills have never been more valued by employers.
In this session, we will explore how COVID-19 has impacted the hiring priorities of employers and how this has placed a new spotlight on soft skills. We will consider the extent to which communication skills underpin a broader set of workplace competencies, and we will share some tools and approaches teachers can use to embed the development of soft skills in a language learning environment.
When? Thursday 22nd July, 1pm UK time – Register now!
Real empowerment in the real world: Certifying English skills in a changing, digital landscape
It's not just about what you know, it's about how you can prove it. In this post-COVID world where geographical barriers are blurred, competition in international workplaces and university programs is even greater. During this session, we'll explore Pearson English International Certificate's new online delivery mode, which enables adult learners from anywhere in the world to sit for the certified exam. With the same quality standards as the paper test, this secure test will be available on-demand in a computer-based format that can be taken from a Test Center or with Online Proctoring from the comfort of home, making it more convenient for test-takers, and course-agnostic for teacher preparation.
When? Tuesday 27th July, 3pm UK time – Register now!
Getting to know the Global Scale of English – the ultimate map and compass for every learning journey
Research shows us that effective teaching and learning is focused on outcomes. By setting clear goals – and measuring progress towards those goals – we can better understand the impact of what is being taught. The Global Scale of English (GSE) was developed to support teachers in the practical application of goal setting against an international standard for English. At Pearson, the GSE framework underpins the development of all new courseware and assessments, creating a robust end-to-end solution that enables learners to be placed, taught, monitored and assessed using the GSE throughout their learning journey. In this session, we will look at ways in which the GSE can be used to ensure your learners are making progress, showcasing both the products that combine to form the end-to-end solution as well as the free online tools and resources that are available for teachers.
When? Thursday 29th July, 3pm UK time – Register now!
Finding firm ground: How to truly understand learner needs and base your teaching on real data
In this session, we show how data from Pearson English proficiency assessments can give teachers insight on learner strengths and weaknesses to guide teaching. Taking Roadmap and the Benchmark Test as examples, we discuss how this data can be used alongside Pearson English courseware, within the framework of the Global Scale of English, to build tailored programs. The session will give teachers practical advice on how insights drawn from score reports can be used to build or fine-tune a course.
When? – Tuesday 3rd August, 2pm UK time – Register now!
English success for young learners: how to build a solid framework focused on learners' progress
Join our experts to learn how to construct a powerful teaching and assessment program for young learners, which engages young minds while getting great, measurable results. Big English and English Benchmark Young Learners have been designed to work hand-in-hand – to teach, test and remediate in one smooth, interconnected system, underpinned by the Global Scale of English and a pedagogical approach that truly motivates and inspires.
When? Thursday 5th August, 1pm UK time – Register now!
Building the ultimate exam preparation toolkit for teachers
Building the foundations for successful test prep classes starts with a solid set of tools, developed with the goal of helping teachers to take ownership of their learning and enhance their practice for the benefit of their students. Discover what makes a great teacher toolkit and learn how Pearson's range of resources will support you with preparing learners for PTE Academic.
When? Tuesday 10th August, 3pm UK time – Register now!
Equipping young learners with vital future skills
In order to adapt to an ever-changing world, young learners need not just language skills, but also future skills. In this session, we will look at how developing critical thinking skills, collaboration, creativity, literacy, flexibility and social skills can help prepare children for future success. We'll give practical tips using examples from the new primary course Team Together and discuss how Pearson English International Certificate Young Learners tests these vital future skills.
When? Thursday 12th August, 3pm UK time – Register now!
"Summer slide" – myth or reality?
Since the 1980s, much has been made of the summer slide – the loss of knowledge that takes place when students are out of school on their long vacation. What exactly does this mean? And is it really a thing? In 2021, educators will also face the knock-on effects of an academic year spent teaching remotely and supporting homeschooling – giving rise to yet another educational phenomenon: lost learning. How do we address all of these issues – to ensure that our students don't get left behind?
In this session, the presenters will be looking at these questions in the context of learning English, combining research findings with practical advice on making your teaching as impactful as possible as the new academic year begins.
When? Tuesday 17th August, 5pm UK time – Register now!
New beginnings: Building a robust teaching and assessment program from the outset
So here we are, at the dusk of a holiday break. Some of us are already at work, others still enjoying sun spells on a remote island or on the private balcony on the third floor. Whether we want it or not, the time of the new school year is approaching step by step and we are here to help.
Please join us in this session where we will share potential solutions of how to combine teaching and assessment into a well-designed strategy allowing your students to flourish and move forward on the educational path.
When? Thursday 19th August, 5pm UK time – Register now!
The psychology of progress: motivation, measurement and achievement (Fireside chat)
Progress in language learning – what is it and how can we measure it? How can we motivate learners to learn? So they can see the long-term benefits of learning a language. These are some of the fundamental questions facing language teachers, ever more so today with online and hybrid learning. What tools are there to help teachers? The discussion will focus on both traditional concepts of motivation and more recent developments in technology to support learning. This will shine a light on the complex factors which underpin the psychology of progress.
When? Tuesday 24th August, 5pm UK time – Register now!